How to turn a T-shirt into a shoulder bag in TWO MINUTES -- and without sewing!
We all have a favorite T-shirt to which we are particularly attached that was maybe gifted to us on a special occasion or perhaps it was a souvenir from a fantastic trip that we fondly remember. So, when inevitably, the T-shirt becomes so old and tattered or outdated that it can no longer be worn, it will be very painful to think about throwing it away.
But here is an easy and quick DIY project that can help us avoid having to throw out our favorite T-shirt! You can transform your old T-shirt into a very practical and useful shoulder bag in just a few steps --- and best of all -- without sewing anything!

Remember: You will not need glue, needle, or thread -- only your beloved favorite old T-shirt and a pair of scissors. Let's see how to do it: 
1. First turn the T-shirt wrong side out and fold it in half. Then with a pair of scissors, cut off the sleeves along the line as shown in the image below.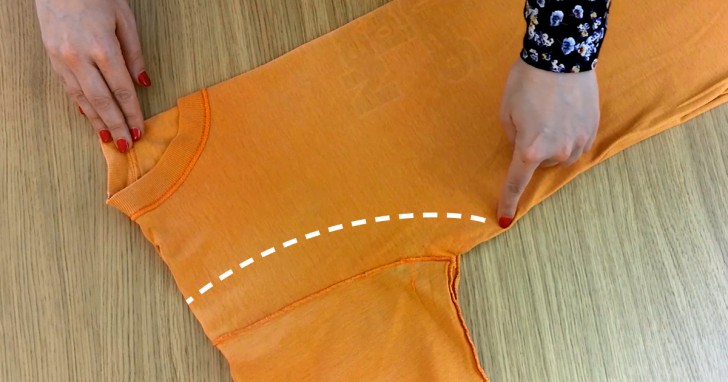 2. Then eliminate the neck while keeping the T-shirt folded in half.
3. Next move down to the bottom of the T-shirt; which you will remove by cutting along a straight line as shown in the figure below.
4. Use the edge strip that you just cut off to tie the base of the T-shirt, as if it were a bag or a sack.
5. Turn the T-shirt right side out again and... Voila! Your shoulder bag is ready to be used!
If you have any questions about how to make this bag, this video will show you the whole process -- step by step! Ok.... time to get to work! :) Loading...