At birth she weighed only 0.8 lbs and against all expectations, she has become a beautiful child
When your daughter is born prematurely weighing only 14 oz (411 gr), and the doctors and nurses do all they can to help her to survive, one of their first tasks is to tell the parents immediately that the hopes for success are almost nil. 
This is what also happened to new mom Ashley Zachmeyer when her baby girl came into the world weighing the same as a  fetus after twenty-two weeks of gestation.
It was a moment of great fear, but little Adalee showed such a strong will to live that she was able to be in that limited 20% of severely premature babies that survive.
"My child had no hope of surviving ..."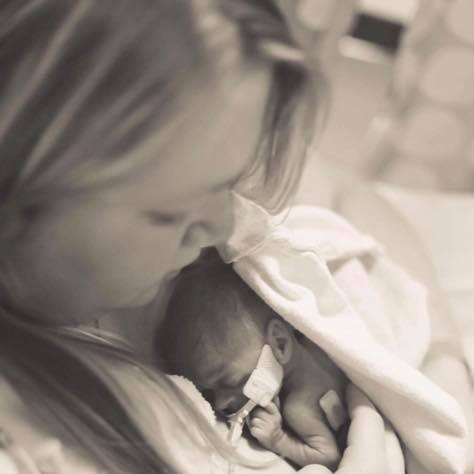 Mama Ashley recounts: "Nobody believed it ... How could a little girl survive who at birth weighed only 14 oz (411 gr)?
When I discovered I was pregnant, it was a shock because I had been diagnosed with polycystic ovary syndrome and also my husband had infertility problems, so we knew we could not have any children. When we found out, through an ultrasound that was done to identify a cyst and that instead revealed a heartbeat --- I was already seven weeks pregnant! That moment changed our lives forever.
During the checkup made in the twelfth week, they identified a blood clot in my womb and told me that I had to remain at complete bed rest. Six weeks later, we discovered that the clot was gone but our baby was not growing properly and my amniotic fluid was insufficient.

From that moment, we began to see a series of high-risk pregnancy specialists. One told us that the chances of the child being born alive were less than 20%, another doctor told us to prepare for the worst. We went on like this until the twenty-sixth week, when it was explained that the blood flow in the umbilical cord was compromised, and that they expected a miscarriage within the next few hours and that I had to make a choice --- let my baby go right away or wait and attempt a natural birth that, in any case, had very little chance of succeeding.
I did not think twice --- I decided to fight for her life!
I was hospitalized and immediately confined to my bed and warned that probably the worst would happen within the next 72 hours. Of course, I agreed to total bed rest and then somehow those 72 hours became a week, then two, then three ... In those days I risked ending up in the operating room several times, but my Adalee always managed to maintain her condition that had become acceptable whereas before it had been considered life-threatening. After almost four weeks in the hospital, however, she had stopped moving and the amniotic fluid was measurable --- it was time for her to be born.
On 22 June 2017, at twenty-nine weeks and five days of gestation, our baby was born. She weighed less than what had been estimated by the doctors, only 14 oz (411 gr). The medical staff supported my desire to try to save her, even if she was only the size and the length of a can of Coke and you could see the bones and organs through her skin.

The days of neonatal intensive care began and they were full of obstacles. In addition, we had prepared ourselves to hear from doctors that our premature daughter had suffered some irreparable damage or that she had to be urgently operated on, but miraculously this news never came and the medical staff said that they had never seen a premature baby like our daughter who did not have any serious problems.
Three weeks after her birth, we were allowed to hold her in our arms for the first time.
image:
Facebook/Asheley Zachmeyer
After 106 days of life in the hospital, our daughter was finally ready to go home, even if she weighed only 4.5 lbs (2 kg) at three months of age.
To say that we were the protagonists of a miracle is a real understatement. Our baby will be small but she's very strong!".