Andrea Bocelli welcomes Ed Sheeran to his Italian home and when they begin to sing a duet --- it is sublime!
Since the day of his debut on the international music scene, Ed Sheeran has never disappointed his fans, literally turning out one success after the other.
The same thing happened to another pillar of the music world, namely, Andre Bocelli. In fact, his career is much longer than that of the young English artist, and it is dotted with many successful songs and collaborations with the greatest musical stars around the world.
The results of the union two such refined voices can only be a masterpiece!
Andrea Bocelli and Ed Sheeran collaborated together to create a duet version of the song "Perfect'" which was entirely composed by Ed himself.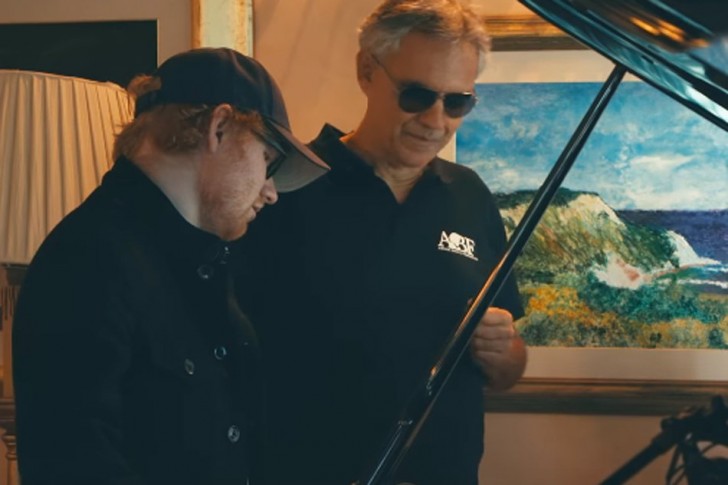 On the occasion of the recording of the piece, Andrea Bocelli invited the English artist to his private home in which he also has a small recording studio. The meeting gave Ed Sheeran the opportunity to visit his favorite country, in fact, he has declared to love Italy, its landscapes, and its cuisine. For Sheeran, learning the Italian lyrics to the song was not a huge problem, therefore, it was not difficult for Sheeran to accompany the voice of the great Bocelli in the Italian part.

The song is divided into two segments, the first sung in the original English language by the young artist and the second, in Italian, sung by the tenor himself. The music underwent some changes to better accommodate the two voices, but what remains unchanged is the magic and sweetness that this song communicates. It is a ballad of love destined to enter the ranks of other historically famous love songs that will continue to be the personal soundtracks of the most beautiful stories among lovers.

If already the original version seemed "Perfect", recalling the title of the song, then this collaboration with Bocelli made it sublime!
Related Stories