Here is a 1955 guide about how to be a good wife!
A guide to learning how to become the perfect wife, mother, and housewife. In 1955, such a publication was not only not considered to be absurd, it was actually welcomed by American middle-class readers (and not only by them). 
The pictures that we have collected for you are captioned with phrases found in an article titled "The Guide to Being a Good Wife".
This article has listed what they thought, at that time, was the behavior to be adopted and the expectations to be met in order to be considered a wife, mother, and housewife --- worthy of respect.
A woman's kitchen is her kingdom. Always have dinner ready for your husband when he comes home. In this way, you will make it clear that you have been thinking of him and that you want to satisfy his needs.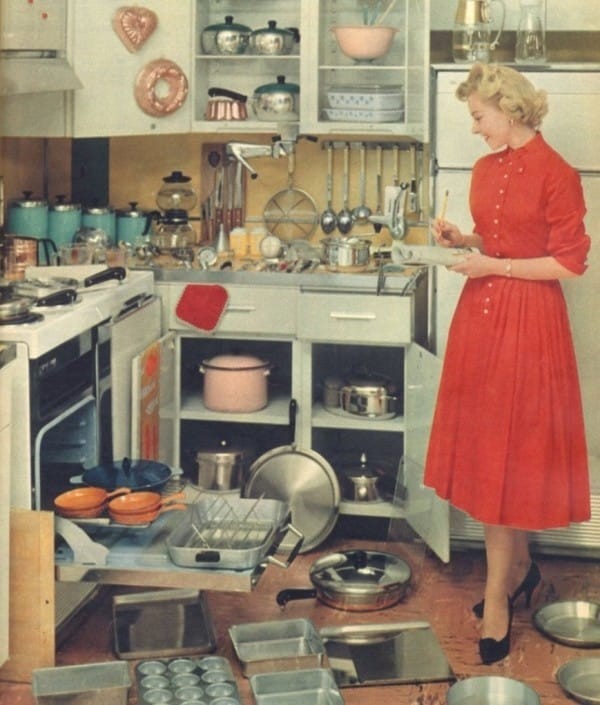 Finish your household chores before he comes back home and make sure you look nice, wear a clean dress, apply a bit of makeup, and comb your hair.
Make sure the house is impeccably clean and tidy.
In the winter, always make sure that the house is warm when he returns. This will make your husband feel like he is in paradise and this will also give you a great feeling of personal satisfaction.
Take care of your children and always try to calm them when you see that they are about to become unruly.
When your husband comes home, always be happy and pleased to see him. Hug him and listen to what he has to say about his day. He may need your support and it is the duty of a wife to know how to give him the support and help he needs.
If you also have something to tell him, always let him speak first and remember that his issues or topics are more important.
Do not feel bad or angry if he sometimes comes back late from work or goes out to dinner with his friends. You must understand that his life is full of stress and having some time all for himself is crucial to a man.
Your goal as a wife is to make your home a serene and problem-free environment. Do not bore your husband with your problems and let him relax.
Try to make him feel comfortable --- give him the largest chair and all the space he needs on the couch. Prepare hot drinks in the winter and something cool and refreshing when it gets hot outside.
When your husband returns home, offer to put his shoes away with a pleasant voice.
Do not question his authority and judgment --- remember that he is the head of the family and as such he is entitled to exercise his will.
The real existence of this article, which has been circulating via fax for a long time, has never been established.
However, thinking of the time period which this article refers to, we cannot help but think that even if this guide had never been put down in writing, the advice and tips that it gave to women were those that were felt to be desirable for the family model in that period.