Another Sad Case Of Animal Cruelty!
Hayden Howard is the owner of a beautiful English mastiff. One day she noticed that he was particularly sad and depressed, and when she took a good look at him she understood the reason.
Her dog's body was covered by what at first sight looked like insect bites. His whole body was covered with sores and they were causing him a lot of pain. He was in so much pain that it was difficult for him to even move.
Hayden decided to take him to the veterinarian and it was there that she discovered the truth and something else that she had never even imagined! 
The veterinarian first shaved the affected areas on the dog's body and it was then that it was discovered that the sores were not insect bites.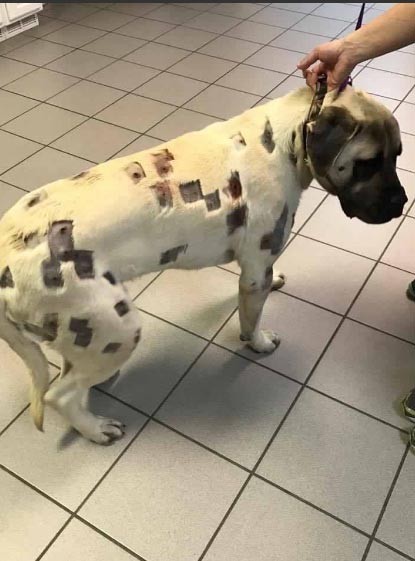 The mastiff had been shot with a toy gun and the wounds had been caused by toy gun bullets.
The veterinarian extracted a total of 27 toy gun bullets from the dog's body. Naturally, Hayden was very upset --- she could not believe that there were people who would do such a thing!
Furthermore, Hayden discovered that many more shots had been fired at her dog, due to the bullets she found near her house, stuck in a tree!
It was then that the veterinarian advised Hayden to call the police, who immediately opened an investigation. From the trajectory of the bullets, the police officers discovered that the toy gunshots must have come from a neighbor's house where, incidentally, the police also found drugs!
The investigation is still underway and luckily, the poor mastiff is recovering from his ordeal. What this dog suffered was only one of the many acts of violence and cruelty that are perpetrated against animals, especially against dogs. Their tormentors are people who have no respect for helpless animals and who even take advantage of them to vent their own anger and frustration.
Related Stories